2003 IAJGS Award for Outstanding Contribution to Jewish Genealogy
Washington, DC


The International Association of Jewish Genealogical Societies (IAJGS) is pleased to announce that Stephen Morse has been named as its 2003 Award winner for Outstanding Contributions to Jewish Genealogy. The award was presented to him on July 24th in Washington, D.C., during the 23rd IAJGS International Conference on Jewish Genealogy. Stephen was recognized for his extraordinary work, programming skills, and perseverance in producing his One-Step Research Tools. He has unselfishly provided a genealogist-friendly interface to the Ellis Island Database and the 1930 U.S. Census Database. These tools have greatly enhanced the value of these resources to genealogists. Stephen's web pages and programs have helped and encouraged countless researchers, Jewish and non-Jewish.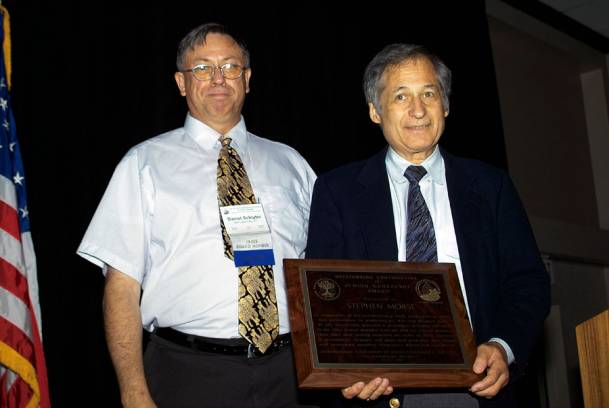 Stephen Morse (holding plaque) with Daniel Schlyter of the IAJGS
At his website (stevemorse.org) Stephen Morse makes available a wide variety of tools as a public service. He derives no revenue from any of them.
His Ellis Island tools allow for searching the Ellis Island database in ways not possible from the Ellis Island website directly. His census tools not only contain the most extensive tables in existence for finding addresses in the 1930 census, but also integrate with name indexes from various commercial websites to allow for more powerful searches. His Social Security Death Index tool is a portal that combines the best features of various websites that allow searches into the SSDI database. He also has tools for computing such things as soundex encodings, dates in the Jewish Calendar, and times of sunrise and sunset. And his most recent tool is one that allows anyone having a collection of data to build a web-based search application for that data without the need to do any programming.
Stephen Morse is an amateur genealogist who has been researching his Russian-Jewish origins for the past few years. Two years ago he developed some web-based searching aids to enable him to do his own research. Much to his surprise, his searching aids and websites have attracted attention worldwide.
Morse holds a doctorate in electrical engineering from New York University. He has held research positions at Bell Telephone Laboratories, IBM Watson Research Center, GE Corporate Research and Development, and Compagnie Internationale pour l'Informatique in France. He has been involved in development at Intel Corporatation, Alsys Inc, and Netscape Communications Corp. He has taught at CCNY, Pratt Institute in Brooklyn, UC Berkeley, SUNY Albany, Stanford University, and San Francisco State University. He has authored numerous technical papers, written four textbooks, and holds three patents. He is best known as the architect of the Intel 8086, the granddaddy of today's pentium processor. He has lived in San Francisco for the past 30 years.
The International Association of Jewish Genealogical Societies (IAJGS) includes 75 national and local societies on six continents, with 10,000+ individual members who are actively researching their Jewish roots. Annually, since 1998, it has recognized excellence in the field of Jewish genealogy through the presentation of outstanding achievement awards.
Hal Bookbinder, IAJGS President
Bookbinder1@earthlink.net